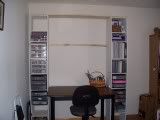 Today is a good day to brag on my DH (Dear Hubby).
He has been patient through the early part of this year as I recuperated from painful back problems. But there have been some positive things through it all. One thing is that I have watched a lot of home improvement and home organization programs through the day while I rested in the recliner. This has given me a lot of great ideas for dealing with the clutter that seems to pile up endlessly.
DH has even gotten into the spirit of things. Since it is too snowy outside to do much outdoor work and now that I am up and around more, we have been working together to organize my craft room/ writing office space.
About 12 years ago we purchased two heavy duty wooden closet organization kits. Each one contained 2 cube-type shelving units 12" deep x 12" wide x 40" tall iwth adjustable sehlves. The two fit together to make an 80" tall tower in the center of the closet. On each side, there were adjustable clothes hanging bars.
When we moved, our new closets already had nice wire shelving so I used the 4 units side by side to store my paper crafting supplies. They were getting wobbly and clulttered. I knew something had to be done - either throw them away and find some other storage sloution or BUILD something with them.
My DH took a few measurements and decided the units would make a great surround for my craft table. He put them together as towers again and fastened them to the wall on each side of my table. He has already put a shelf across the top of the two towers and plans to add at least two more between the units for extra storage.
Wow! What a great crafting space! Though it isn't finished yet - I need to paint it and add the new shelves, I coldn't wait to post a picture. Thank you DH!
Hmmm - do you think if I brag on him some more, he'll do a few more things on my Honey-Do list?