Hello everyone! It has been quite some time since my last blog. I've been on a writing "sabbatical" of sorts, getting some things straightened out and doing quite a bit of praying about what to do next and where to go with things. Thank you to those of you who asked what was going on! I really appreciate your care and concern. I'm not sure how soon I'll be blogging regularly again, but wanted to share a chuckle with you today. God Bless!
Bonnie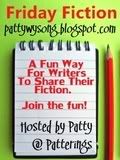 Twas A Month Before Christmas
Twas a month before Christmas
And all through the house
Everyone was salivating
Including the mouse.
The heavenly aroma
Of warm chocolate chips
Caused even the finicky
To lick hungry lips.
The cookies were laid
On wire racks to cool
While children hung 'round
Beginning to drool.
And Ma in her apron
And green oven mitt
Scraped the glass bowl
To get every bit.
When in the living room
There rose such a clatter,
She raced in to see,
Leaving her batter.
The old Christmas tree
Lay bent on the floor
While Pa sat there laughing
And laughing some more.
A string of white lights
Hung from one limb
While several more
Hung all over him!
He blinked and twinkled
And chuckled with glee
As he rose to his feet
And righted the tree,
Ma started to speak,
Choosing words with care
Then she stopped and turned
And sniffed at the air.
"Oh no," she cried
And started to choke
For out of the oven came
Billowing smoke.
"My cookies," she yelled,
And turned with a flash
Flung open the shutters
And threw up the sash.
Hard lumps of coal
Lay where cookies had been.
Ma crying, Pa laughing,
Oh my what a din!
"At least I have some,"
She thought to herself.
But not a cookie remained
On the rack or the shelf.
The children all scattered
Each to his room
When Mama turned red
And reached for her broom.
And I heard her exclaim
As she plopped in her chair,
"Honolulu for Christmas.
I wanna go there!"
©Bonnie Winters 2008
Hope you and yours have a very wonderful "Christ"mas!