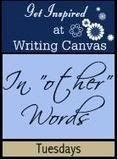 "Hospitality is becoming an almost forgotten Christian virtue in our style of life today… In the New Testament, however, hospitality was a distinctive mark of Christians and Christian communities."
~Alexander Strauch
from The Hospitality Commands~
I'm not sure what it stood for - I figure it meant "Crafts Or Whatever" - but I proudly wore the stamped "C-O-W" letters to church on my right arm. Whatever the letters stood for, to me, they signified a bonding time together with the young teen girls in our church.
These girls love crafting.
We don't have a lot of programs for our church kids right now and God laid the girls on my heart. Since I have a whole room full of supplies that I use to create cards and other items for sale, I invited the group of giggly girls over to the house for a "play date".
No rules - just be careful with the tools and put one thing back before getting another out so I didn't have a huge mess to deal with later. Every scrap of paper, every tool and every crafting supply was available to use.
What a fun time! The girls quickly busied themsleves with projects and just talked all afternoon. When suppertime rolled around, we carried the fun into the kitchen and decorated pizzas.
All too soon it was over, but before heading off to church, we each received the "C-O-W" stamp on our right arms and a promise to do it again. Of course, the ink smudged and got on everything else, but to me, it became a symbol of bonding with the girls.
I became a Christian at age 8, following an episode of abuse. Throughout my teenage years, Jesus was there, along with other significant adults, to help me through the tumultuous teenage years of the 1960's with the expanding drug scene, free-love flower children and the threat of potential global annihilation hanging over our heads.
It's even worse for our teens today. These girls are precious in God's sight. They are the future of our church, yet what is there to keep them pure, safe and strong in Jesus? It will take open hearts and homes where they are welcome to come when they are struggling with today's issues - for counsel, for acceptance and approval, for guidance and love.
Lord teach me to be hospitable - to have an open heart and home where "my girls" and others can come in times of need and know they are loved -just as You have opened Your arms to me and folded me in the safe haven of Your breast.
***
Today's IOW hostess is Chelsey over at her site
Joyfully Living For His Glory
. If you'd like to participate, simply blog about the quote on your blog page, then visit Chelsey and leave your URL in the Mr. Linky box.
Feel free to visit the other sites and read all the great takes on today's quote and when you visit, be sure to leave a comment for the writers to encourage them.