Yesterday was a special day - our grandson Avery turned three years old. Since his parents are working, they decided to have his party tomorrow. That means Birthday Cake!
I love knowing where things originated, so I googled Birthday Cake and found some interesting info.
There are several ideas on the origin of Birthday Cake. Some attribute it to the Germans in the middle ages who baked sweetened bread dough shaped to resemble the baby Jesus in swaddling clothes. These were made during the Christmas holiday season to celebrate His birth. The Germans also made a special cake for Kinderfest (the birthday celebration for a young child) and a special sweet layer cake called Geburtstagorten.
Others believe the idea of birthday cakes originated with the Greeks and Romans. The Greeks baked round cakes sweetened with honey which were taken to the temple of Artemis, goddess of the moon. The Romans however, loved to party and celebrated all sorts of birthdays including those of their families, the cities where they lived and even their emperors. Their special cakes were made of flour, grated goat''s cheese, olive oil and honey for sweetening.
Leave it to the English to add some fun to the birthday cake tradition by baking small objects into the sweetened cakes. If you found a coin in your cake, you were supposed to be blessed during the coming year. If you received a thimble, you might just end up an old maid...
Does your family have a favorite recipe for birthday cake? When my children were small, I made their cakes from scratch using a yellow cake recipe.
One-Two-Three-Four Cake
1 cup shortening
2 cups sugar
4 eggs
2 teaspoons vanilla
3 cups flour3 teaspoons baking powder
1 teaspoon salt
1 cup milk
Cream shortening; add sugar, beating until fluffy. Beat in eggs, one at a time. Add flavoring.Sift together dry ingredients and add to creamed mixture alternately with milk. Mix well and place in greased and sugared bundt or tube pan. Bake at 350 degrees for one hour or until done.
***
For some added fun, I used to cut the finished cake half and placed the halves end to end to create an "S" shaped caterpillar, decorated with frosting, gum drops, licorice legs and a pair of wiggly eyes.
My daughter now carries on the tradition of creating special cakes for her children. This past year, Jack got a cake decorated with blue icing and frosted spider webs because he loves Spiderman. Eve asked for a guitar shaped cake. That one was fun!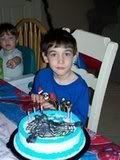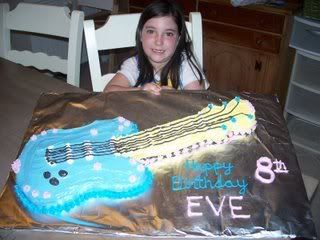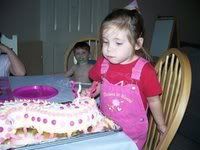 Well, since Avery is only three, I don't think we'll be putting anything in his cake! Actually, I doubt it will even be real cake since he likes ice cream better than cake. Carvel, here we come!