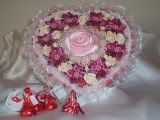 They call me Bonnie the Bag Lady because I always carry a bag of "surprises" whenever I speak to a women's group. So read on to see what I pulled out of my bag Monday night for our women's meeting.
We all need to feel affirmed and loved which makes February a perfect month for "Heavenly Hugs and Kisses." To tempt the women's spiritual taste buds, I found a list of affirmations - "What God's Word says I am" and "What His Word says I have" designed to remind the women of God's love.
After typing out the list with a 14 point Times font, double spaced, I cut the affirmations into strips. Each strip was hot glued to a Hershey Kiss along with a small ribbon bow and then rolled into a spiral. An empty heart shaped box, decorated with ribbon flowers, lace and bows held the decorated kisses.
For the devotional time, I had each woman pick a kiss from the box. In turn, each one read the scriptural affirmation and gave a personal testimony of how God had loved and affirmed them.
What a great time of sharing we had as the ladies opened up and told stories about their lives. I reminded them that witnessing is just as easy as sharing their stories of how God has affirmed them. He has brought good things out of the difficult times in our lives, giving us the experience to minister to others, especially if we are able to see His hand of love and affirmation in those circumstances.
Here is the list of scriptures I used. I'm not sure who put this list together so if anyone recognizes it, please be sure to let me know so I can give proper credit!
What God says I am – I am!
I am a new creation, created in Christ Jesus. II Corinthians 5:17
I am the righteousness of God in Christ II Corinthians 5:21
I am healed by the stripes of Jesus I Peter 2:24
I am more than a conqueror through Him that loves me. Romans 8:37
I am strong in the Lord and in the power of His might. Ephesians 6:10
I am rich through Jesus II Corinthians 8:9
I am complete in Him Colossians 2:10
I am His workmanship, created in Christ Jesus for good works. Ephesians 2:10
I am a daughter and heir of God Galatians 4:7
I am redeemed from the curse of the law Galatians 3:13
I am walking in the blessings of Abraham Galatians 3:14
I am like a tree planted by the rivers of water, I bring forth fruit in my season. My leaf shall not whither and whatsoever I do shall prosper. Psalm 1:3
I an as bold as a lion Proverbs 28:
I am not ashamed of the Gospel of Christ Romans 1:16
I am of quick understanding in the fear of the Lord. Isaiah 11:3
I am strong in faith giving glory to God. Romans 4:21
I am a world overcomer I John 5:4,5
I am crucified with Christ, nevertheless I live, yet not I but Christ lives in me. The life I now live in the flesh, I live by the faith of the Son of God Galatians 2:20
What God says I have – I have!
I have the faith of god residing in me, Matthew 11:20
I have boldness and access with confidence before God Ephesians 3:12
I have the peace of God that passes all understanding Philippians 4:7
I have redemption through the blood of Jesus Colossians 1:14
I have joy unspeakable and full of glory I Peter 1:8
I have God's love I John 4:16
I have victory that overcomes the world I John 5:4
I have the mind of Christ Philippians 2:5
I have all my needs supplied according to His riches in glory by Christ Jesus Philippians 4:19
I have godly wisdom and understanding Ephesians 1:17,18
I have been given the spirit of power, of love and of a sound mind – not the spirit of fear II Timothy 1:7
I have the right to come boldly before the throne of grace to obtain mercy and find grace to help in time of need Hebrews 4:16
I have Christ in me, the hope of glory Colossians 1:27
I have the tongue of the learned so that I should know how to speak a word to him that is weary. Isaiah 50:4
I have the joy of the Lord which is my strength Nehemiah 8:10