My nephew Travis graduates this year. Boy do I feel older since he is nine years younger than my youngest daughter!
But all age jokes aside, his mom started a neat family tradition when her older daughters graduated 4 years ago. Tammie began making family quilts for each of her children as they graduated from High School. The idea was that as they went away to college, they would be able to take their family with them through the blocks depicted on the quilt.
Each time one of her kids entered 12th grade, Tammie would pass out 10" x 10" muslin blocks to every family member and ask them to create a memory block. Since all three of my children were grown and married, they each received a block of their own to create.
That's fine, except my kids kept procrastinating about their blocks until Tammie threw up her hands in frustration and looked at me. "You're the creative one in the family - you do it!" So for the last three quilts, I made 4 blocks - one for my husband and I and one for each of my married children.
I have to admit, I the first two times I tried to put images on the quilt that would remind Tracy and Tara of us. For example, for my block I used a quill pen and a Bible since Dan's a pastor and I'm a writer.
But with Travis, I had run out of ideas until my daughter suggested the Veggie Tales Tuba Wars character because Travis plays tuba in the high school band. That got me started and I found Veggie Tales characters for each of us. (I didn't even bother to ask my kids to do their own block this time since I knew it would eventually fall to me anyway...)
So I thought it would be fun to share the blocks I created with you today. Would you believe, I was one of the first ones to finish the blocks this time rather than the last!
Click on images to view whole picture I couldn't get them to fit the space - more techie stuff to learn!
Paternal Grandparent block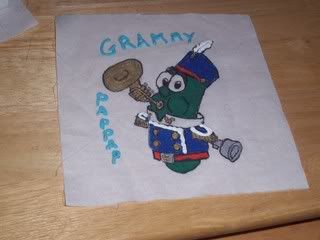 ">
My block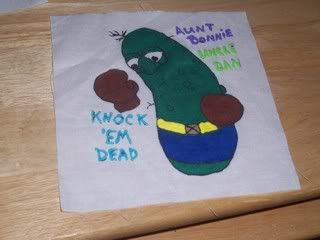 ">
Cammie and Doug's block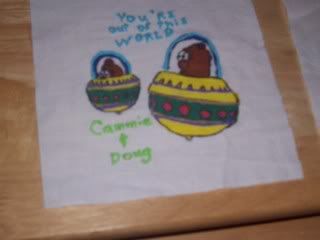 Dave and Julie's block - this even looks like Dave LOL!
">
Allissa and Josh's block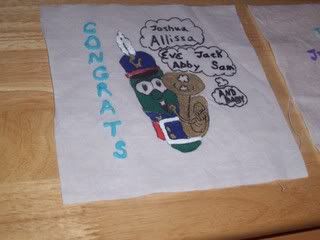 God bless you Travis as you graduate and whew! I think that's the last quilt I have to do for awhile!