Whew! I haven't had such a busy summer since my children were still in school. Between making cards for showers, a round of never-ending picnics and now the garden produce, it seems lke there's always something pressing that needs to be done - and the blogging gets pushed to the bottom of the list.
Anyway - today will be short and sweet - I'm posting a photo of the baby announcements I made for my niece Tara who is due to deliver her first baby very soon. Congrats Tara - with all my love and prayers for a good delivery!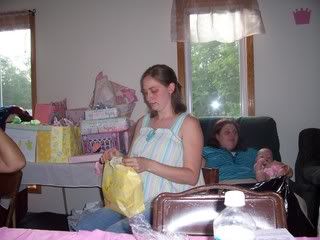 Tara's mom Tammie went all out with the shower making cute little stuffed bears with lace dresses, sitting on little lace doilies which she hand crocheted. Lots of work, but great results. The tables were decorated with play princess tiaras, confetti, and even a small castle.
To go along with the Princess theme, I made a little lacy dress for the front of the baby announcements I created for Tara. I almost put the dresses on fuzzy bears made from flocked paper, but couldn't quite get it to look the way I wanted. After I saw the party favors her mom created, I wish I had been able to put bears on the front of her announcements as well.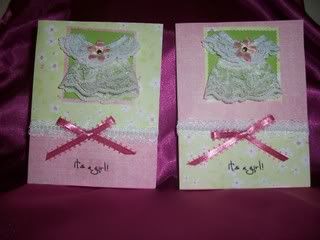 The dresses are very easy - just pieces of 1" gathered lace for the skirt and 1/2" lace for the top - glued on a 2" mat on the front of the card.
Congrats again Tara and best wishes!