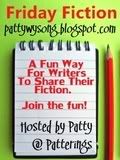 I love the stories of Bible women – and more than that, I love to make them come alive on paper as flesh and blood women with real emotions; real needs. I hope and pray this one ministers to you as it did to me when I wrote it.
The Fragrance of Love
Based on Luke 7:36-50 (NIV)
I held the alabaster jar filled with ointment, caressing its smoothness. It was my most valuable possession and I felt compelled to offer it to Him. I had nothing else worthy to give the Son of God.
Son of God? That's what He calls Himself. He must be – just look at all the miracles He has done. No one else can heal the sick and even raise the dead like He does.
Taking a deep breath for courage, I walked to where He sat and knelt beside Him. The strength of His presence pierced my heart, like sunlight shining into a shadowy room. It illuminated the stark sinfulness of my heart; the bitter wounds and fears I had never shared with anyone.
I suddenly saw myself in all my wretchedness. My heart was dark, shadowed and evil, next to His shining brightness. Scenes of my anger, hatred and bitterness flashed before my eyes.
My tears began to flow so fast I couldn't stop them, spilling onto His feet. Mortified, I mumbled, "Master, forgive me. Please, forgive me." I wanted Him to forgive me for allowing my tears to fall on His feet, but somehow, I sensed He offered me more.
In my awkward discomfort, I groped for a cloth to dry the tears that soaked His feet. Finding none, I used my hair. Hope lay wounded within my breast. There could be no forgiveness for me, could there?
I was a sinner – that's the way men like Simon looked at me –men who put their offerings in the temple coffers and left to brag about their "righteousness acts of charity" while the widow down the street from me paid her dues then struggled to feed her son. Men like Simon were worse than swine in my eyes.
Shame for my bitter attitude smote me. I felt His eyes on me as a sense of sadness and disappointment surrounded my heart, bringing a fresh onslaught of tears. My mind returned to my mission – to offer my gift to Jesus. Now more than ever, I wanted, no – needed - to offer my gift to Him, before Simon threw me out of His house. Or worse – before Jesus condemned me and shamed me publicly for my sins.
With trembling hands, I broke my alabaster box and began to massage the oil onto His tear-dampened feet. "Here, Lord," I said softly. "This is for you. I have nothing else of value to offer. But You deserve so much more."
Those around Him fidgeted and whispered, "Doesn't He know what she is?" Though I heard their words and felt their condemnation, I silently prayed Jesus would accept my gift.
Afraid to look up and see the scorn in His eyes, I continued to massage the oil onto His feet.
"Simon," I heard Him say. "Two men borrowed money from the same wealthy man. One borrowed five hundred denarii, and the other one borrowed fifty. When the wealthy man came to collect the debt, neither of them were able to pay him back, so he cancelled their debts. Which of them will love the man more?"
What could Jesus mean by this strange question? Keeping my head bowed, I held my breath and paused so I could hear Simon's answer.
With great discomfort in his voice, Simon answered, "Probably the one who owed the most?"
"That's right, Simon." The answer Jesus gave Simon baffled me. "The one who's forgiven the greatest will love the most."
I closed my eyes and forced myself to breathe again. My perfume was gone, but I remained bowed by His feet, unable to move. He was beginning to teach. Any moment now I was sure He would send me away for my shameful demonstration.
His voice held a hint of rebuke as He spoke to Simon again, "You deliberately ignored the customs of hospitality when I entered your home. There is little love in your heart. But this woman has not ceased to wash my feet with her tears and dry them with her hair. She has anointed them with her precious perfume. Though her sins are many, they have been forgiven because of her great love for Me."
His words kindled the hope for forgiveness in my broken heart, yet the battle of acceptance still raged because of the shame of my sins. Could His words really be true? I wanted to believe, but I was just a woman, a prostitute…
I struggled to still the trembling inside as He lifted my chin forcing me to look up into His eyes. I gasped, amazed because there was no condemnation there. "Your sins are forgiven. Go in peace."
It wasn't my gift of an alabaster jar of perfume that touched His heart. I understand that now. It was my wounded soul freely poured out at His feet. He knew who I was and what I was. But in those precious moments, He met my deepest needs for acceptance and filled me with the fragrance of His love.
©2007 Bonnie Winters
The Fragrance of Love was originally part of a message I preached at a special service at Trinity Bible Church in Hagerstown, MD. It recently appeared in the online e-zine
4Him2U
where I have a monthly column called Patches of Grace as well as other articles or stories each month. I'd love to have you join me. While you're there, you can check out all the other great articles by my friends, the Sonrise Writers.