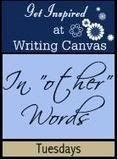 Welcome to In Other Words Tuesdays! Loni has selected the quote for today and is hosting over at her site Writing Canvas.
Today's Quote:


"For at least when we express our anger to God, our wrestling keeps our skin pressing into His. God is still present. When we honestly expose our inflammation, express our soreness, we are still staking our commitment to our relationship with Him."

~Ann Voscamp~
from her blog post,
As human beings we frequently get angry with God - anger for the unfairness of life, especially for the things we have no control over - but He does.
"Why did You let that happen?"we rant, shaking our fists at Him. Or worse yet - the silent anger we hide deep in our hearts so He won't see it; the kind of anger that eventually turns our hearts into an icy bitter rock.
It takes child-like trust to vent our anger toward God - to get all the anger and hurt out in the open so He can begin a healing work. It is a necessary part of our growth as Christians. because if we don't, it will cause a rift in the most precious relationship we have. That rift will continue to separate us until over time, our hearts are as solid as the pillar of salt that once was Lot's wife.
If you haven't read Ann Voscamp's blog post where today's quote originated, I would strongly suggest you do. I love her take on "lamenting."
Several months ago, our Sonrise writing group was also involved in a study about lamenting. As we talked about what lamenting was, we were asked to each write a lament of our own. Though it was a personal thing for me, I decided to share mine with you today because it fits with today's discussion:
Oh God, you have known me since the day of my conception. You have planned for me and guided my steps each day of my life.
When I cried out in pain and fear as a small child, You stood at the foot of my bed with your arms open wide, inviting me into the comfort of your arms, offering me a place to forget the shame of my heart. I wrestled with the fear and confusion each day and with the lies it bred.
My heart said, "You are ugly. You are to blame. You are bad."
Still you came to me in the night and whispered words of comfort. "You are my child, You are my beautiful creation. You can know my goodness in your wounded heart if you only trust me."
When my enemy enslaved me, You were there, walking with me , lifting up my soul to the heavens so that his yoke would be broken in my heart. When my enemy stood firm in his strength, unyielding toward my pleas for mercy, my heart crumbled within me.
I wrestled with You when You said no man could serve two masters. I wanted the earthly relationship - to be able to touch and be touched, but that led to pain. I had difficulty fathoming the heavenly relationship, the true touching of the soul and Spirit because it was invisible.Though I loved You, my heart was torn in shreds by the claws of the lion.
Yet will I turn to You, though I cannot see you for You are righteous and true. You love beyond measure, though my heart is confused. You have been a Father to me all these years, providing, caring, protecting and encouraging – all the things a father does and yet my heart cried for what I could never know – an earthly relationship with a human father without shame and pain.
You have been the strength of my heart and my portion forever! I will rejoice in you. Oh Lord, teach my heart to seek you. Teach my heart to long after you. Cradle me in your arms and teach me to know your joy – for you are not a God of shame. You will not break my heart in pieces. You will only build it up and encourage trust. Oh that my heart will learn to trust you fully!
Learning to lament - to beat on His breast when I feel frustrated, angry or hurt has helped me trust Him more fully. It has taught me to be content in Him, even when I can't change or control my world.
Lamenting has helped me to accept who I am and to be confident that I am the person I am because of His working in my life through the bad times. When all the anger, confusion and frustration is spent, I can relax in His embrace and know I am loved fully, unconditionally.
I pray for all who read this today - May they learn to lean on You, to trust You fully so they may experience Your healing, loving touch in their lives.
Join us today - blog about the quote on your site, then visit Loni at Writing Canvas and leave your URL in the Mr. Linky box. Be sure to visit the other participants for more inspiring reading and leave a comment so they know you were there!