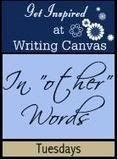 "Still, accepting God's existence is one thing; honoring his command is another matter entirely, especially if we're required to go back when we'd rather go forward."

~Liz Curtis Higgs
from Slightly Bad Girls of the Bible~
***
I don't make a very good patient. Following our car accident several weeks ago, I was told to rest for a few days because of the problems I had from whiplash.
Rest? How could I REST! There were still dishes and mounds of laundry to do. My garden was having a hey-day producing squash and green beans that needed to be picked and put away. I still had children's ministries to plan and prepare for. We had bought a half bushel of peaches just before the accident that were sitting there waiting to rot if I didn't can them.
So I went to work. It was slow going - I was having difficulty focusing on what I was doing and had to reread the directions several times in spite of the fact that I had canned for years. The process took me twice as long as it used to and when I finished, I had a whopper of a head and back ache, not to mention dizziness.
I had accepted the doctor's diagnosis, but didn't honor his commands because I didn't want to waste all those wonderful peaches. After all, that would have been extremely WASTEFUL not to mention that we had spent $16 on the box. So who can afford to dump $16 down the drain these days?
No, I didn't listen to my doctor and I paid for it in physical discomfort. I HAD to rest then.
Now, I have to admit I don't always listen to God very well either. He knows the plans he has for me (Jeremiah 29:11). He always plans things out for my good (Romans 8:28). He loves me and wants the best for me, though sometimes the growing/learning process to get through things is painful. I can accept that. I know it in my head.
But my human nature wants to avoid pain and suffering. It directs me to skirt the issues I need to deal with, to run away from the problems or to bury my head in the sand and pretend they don't exist.
Rather than taking His hand and walking through the circumstantial or emotional fires, I try to press on, avoiding them or tackling them on my own. Of course, I end up falling back and having to regroup with Him before I can make true forward progress.
The whole learning/trusting process is like a spiral. Yes, I still have difficulty honoring His commands, but each time He works through the process with me, my trust is strengthened, the bond of intimacy between us increases and I grow an inch or two toward maturity in my Father.
So will I ever fully honor His commands in my life? Probably not in this lifetime. But through the process, I hope to spiral ever closer to Him.
***
Our IOW hostess today is Miriam Pauline at her site Miriam Pauline's Monologue. Join us there to read her take on the quote and to leave your URL so we can read how you feel about today's quote on your blog.