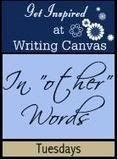 Great to see you here for "In Other Words" Tuesday. Today's hostess Michelle has chosen a great quote to ponder:

"The key to either great purpose or great destruction lies in where we choose to sustain our focus. Knowing this fact should move us to jealously guard our intimacy with the Lord."

by Bill Johnson
Sr. Pastor, Bethel Church - Redding, CA
(from "Strengthen Yourself in the Lord")


I was a kindergarten pirate.
From the time I was three years old, my parents were concerned that I had developed some serious vision problems. At first they thought it was humorous because I kept bumping into doorways or chairs which didn't get pushed all the way under the table. But soon they realized the problem was ambliopia - "crossed eyes."
I don't remember it but we made several trips to the famed Will's Eye Hospital in Philadelphia about an hour away from our home where my eyes were examined and I received a hefty prescription for glasses. I was a tiny three year old with glasses the thickness of soda bottle bottoms resting on my little nose.
At the age of five, the doctors decided I needed to wear an ugly black patch over my right eye to force my left eye to focus and to strengthen the muscles so it would become straight.
What a sight I was as I entered first grade. I wore a my right arm in a sling because I fell from a tricycle while playing with my three year old brother and a big ugly black patch over my right eye.
Our eyes, when they work together properly, send signals to our brain in "stereo." Each eye records a slightly different image and the brain puts the two images together to give us a three dimensional picture of the world around us.
Unfortunately, when one eye turns inward like mine did, the images sent to my brain were confusing, blurred and skewed. My brain had difficulty interpreting the conflicting images transmitted by each of my eyes, causing me to run into objects. Often my brain simply "turned off" the images transmitted by my weaker left eye so I no longer was able to see things three dimensionally. That's why I was clumsy and constantly running into objects.
Like my physical well being depended on how my eyes focused as a child, my mental, emotional and spiritual well being as an adult depends on how and where I focus my spiritual eyes.
When I try to focus on things going on inside me, the world around me and on Christ too, it sends my heart confusing, blurred and skewed images. In order to make sense of it all, my heart may "turn off" the less prominent images or sensations. When that happens, all I see are my fears or debilitating memories or emotions because they tend to be the stronger perceptions.
At that point, I need to take time to stop, realize what I'm doing and refocus my eyes consciously on Him. It may mean I have to spend time in deep sharing with the Lord, telling Him how I really feel about things until all my emotions are spent. When my heart is empty, I need to listen to His voice and hear how He sees the situation.
It's like wearing a spiritual eye patch - purposely covering up my heart's stronger perceptions in order to strengthen my weaker God-perceptions. As a child, I had to wear the patch for many months until my left eye grew stronger. As an adult, it means I may have to step aside at times from my "busyness" to get alone with my Friend and Father to focus solely on our relationship. Though I have many excuses, it is NECESSARY for my inner well being.
Thankfully, the glasses I wear today are a lot more lightweight and MUCH thinner (state-of-the-art no-line bifocals with anti-reflective coating and transition lenses that darken in the sun so I don't need special sunglasses. Woohoo!) But the fact remains I still have problems with the way my eyes focus.
As long as I live I will have problems with my spiritual focus too - it's a fact of life that we battle daily with our old nature. But by guarding our relationship with our Friend and Father jealously, and consciously refocusing on Him whenever we realize our vision is becoming skewed, we will continue to strengthen our hearts and walk in intimacy with Him.
***
Michelle is our hostess today. If you'd like to participate, share your thoughts about this quote on your blog, then visit Michelle at her site
Because I Love You
and leave your URL in the box with the other participants.
Be sure to leave a comment for Michelle and visit some of the other participants as well to see their take on today's quote.
Happy Reading and Writing!