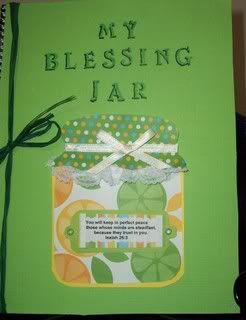 As promised in my Monday blog, I made a cover for my Blessings Journal and wanted to share it with you. It seems a little plain right now, but I have a feeling as I fill the inside with all His blessings, the outside will continue to be embellished as the joy spills out!
I chose the image of a canning jar because the original conversation with my online study group was about creating a blessings "jar" or basket. Since I have been canning a lot this year, I liked the idea of a jar, but it would take up more room than a journal on my already crowded desk.
The scripture on the jar is Isaiah 26:3 NIV "You will keep in perfect peace him whose mind is steadfast, because he trusts in you."
I can't think of any better way to experience God's peace each day than to log the blessings He gives just like I log my calories. It keeps His love in the forefront of my mind and heart which does give me a sense of peace and joy. It has been an amazing week so far with God turning bad things into good things that glorify Him and so many other little blessings. I don't know why I didn't start this a long time ago - but I do know I plan to keep it up!
Have you started your blessings jar/basket/journal yet?