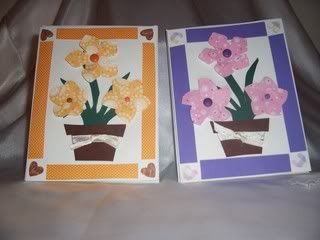 I love flowers but I'm not a gardener so I "grow" my own on paper. Here's a fun card idea using Paper Pizazz's Fold Back Swirl flower template available through Hot Off The Press's
Paper Wishes catalog
site.
Earlier this year when I had a problem with the muscles in my lower back, I had too much free time on my hands so I traced and cut dozens of these neat flowers with the template. Of course, then I had to figure out a way to use them so I created my own potted plants.
These clever little flowers are cut and folded into shape and fastened with a mini or regular sized brad. I attached them to the card with glue dots.
Because I had so many flowers, we used them to make Mother's Day cards in Children's Church as well with the grass and stems drawn on with a marker and little punched butterflies as embellishments.