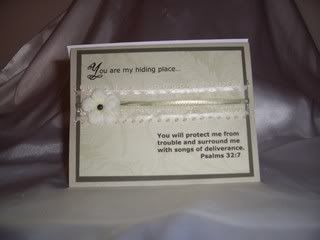 Do you know how a verse or melody can get stuck in your head and go around and around like a carousel for days on end?
I saw a pattern for a neat scripture note card the other day that was quick and easy to make and decided to create some that I could send to friends to encourage them. For the verse, I typed in the key words "Bible Promises" and found lots of good sites filled with encouraging Scripture promises.
After choosing a site at random, I read down through the list of verses and found Psalm 32:7: "You are my hiding place, you will protect me from trouble and surround me with songs of deliverance."
When I saw the verse, the scripture chorus based on that verse began to whirl around in my mind and hasn't stopped for the past few days. If you are familiar with that chorus, you know it has a haunting melody. Even as I write this blog, I can hear the song and feel His comforting Hand.
So I wanted to share this card and verse with you today and trust it will bless you.
The cards are very easy to make : I use a 5.5" x 8.5" sheet of cardstock folded in half for the base of the card. Layer #2 is a contrasting color cardstock cut 4"x 5.25".
I used my computer to print the verse 4 times on a piece of 8.5" x 11" patterned paper before cutting it into 3.75" x 5" sections. This takes a little measuring to arrange the wording how you want it to appear on the finished card, but it's worth the trouble.
Finishing the card was easy with some ribbon, a silk flower and brad. I liked the end result so well, I plan to make several different verses using the same pattern in various colors.
Happy crafting!