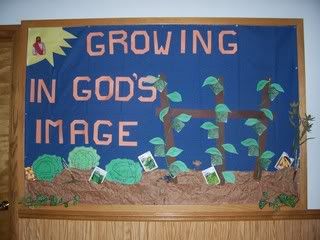 On Wednesdays I always enjoy sharing ministry ideas that my readers can take and make their own.
Today's idea is a bulletin board design inspired by a similar idea I saw on the web...
Growing In God's Image
For the month of June, my husband plans to share a series of sermons on the Image of God. Since June is a month for gardens, I googled free bulletin board ideas on the web and was inspired by a garden themed board one person had posted.
Our board is 4' high x 6' wide and because it is such a big space, it can be daunting. But as I started putting together my first ever bulletin board, I began to realize it was like creating a giant scrapbook page!
The background is a wonderful 2 yard piece of blue fabric with tiny dots. Fabric works well because it covers the length of the board almost from top to bottom and is easy to tack in place - no seams to fit together..
For the garden soil, I used recycled paper grocery bags, cutting off the bottom and opening up the side seam. It took 1 whole bag cut into 2 strips to fit the length of the board. I actually made 2 layers so I could make it look like I planted things in the soil. To get the look of soil, I crumbled the paper bag pieces before mounting them on the board and then used my brown dye-based ink directly on the paper to give it texture.
With the background of the board covered, I added the other elements - a trellis made from strips of brown cardstock, vines out of the twisted paper ribbon, construction paper leaves and beans which I photocopied from the front of the package of beans I planted in my garden. I wrote various character traits God is "growing" in us on the beans and lettuce plants.
The lettuce I drew freehand and the letters I made by taking 5 sheets of construction paper and cutting them into 4 pieces each. With the uniform pieces, I could create regular block letters large enough for the board.
As a finishing touch, I added dimension and whimsy to the board with silk flowers and vines. It was a fun board and took about two hours to complete with a little help from my hubby. It's my turn again in October so.... any ideas out there?