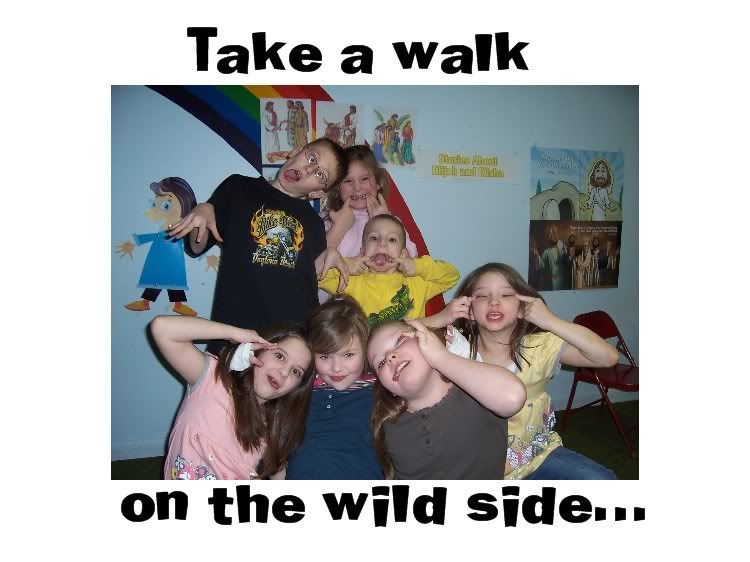 In all the Sunday School literature I've read, follow up is an important element. But it's not always so easy to do. One of the ways I have discovered that is fun and gets the kids involved in the follow up process is to create personalized computer-generated greeting cards.
It started as an extra class activity, taking a class photo for an Easter Play we were going to do. But the kids just didn't want to settle down and pose for the picture. So I took a goofy shot.
Of course, digital cameras are the greatest! Everyone wanted to see what it looked like so they all gathered around and gawked at themselves with silly grins on their faces. Okay, I thought. It doesn't take much to make them happy.
Knowing a good thing when I saw it, I decided to take a few more shots and had them pose in the silliest way they could imagine. Right then I decided to make personalized cards with the photos for our class. We could use the cards for birthdays, missing you and invitations to class events.
Using the pattern for a quarter fold card on my computer, I printed the photo 2 times to make 2 cards from one sheet of card stock. I left a wide border around the photo and printed the words, "Take a walk on the wild side..." above the photo and on one version, I used paw prints for a border treatment on the front of the card.
To make the cards even more personal I decided to have the kids sign a sheet of card stock which I scanned and added to the back of the card. After cutting the card stock in half and folding each half, I had two cards 4 1/4 inches tall and 5 1/2 inches wide.
The inside is blank so we can write any message we want. I like to print up different messages on regular copy paper , trim them to fit the inside of the card and keep on hand so I just have to grab one and zot it in place. Voila! It's ready to send. (It's a good idea to get a signed release form from parents to use the photos as follow up cards though!)
I have attached a sample so you can see how fun they are to create and use. You can change the photo frequently as your class grows or changes. You can even do seasonal ones, indoors or outdoors and change backgrounds. The kids love using them - helping them to get excited about inviting and ministry to the sick class members.
Happy crafting!