I just love digital cameras and computers. Here are the pictures of our new grandbaby!
Katelyn Rebekah was born 3/12/08 at 7:57 pm. She weighed 7 pounds 2 ounces and was 19 3/4 inches long. She has lots of dark hair.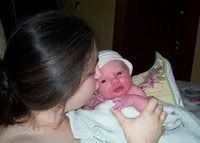 I hope her mommy is giving her that kiss for me!
Allissa just got home from the birthing center at 2 am Thursday morning andby 8 am everyone was up wanting to see their new sister. So here's their first family photo.