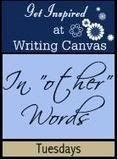 Today I'm privileged to be hosting In Other Words. I ran across this quote in a Bible Study I'm participating in with several writing friends and knew this was the one I needed to share today.
"Real life in the real world is a tough, nitty-gritty journey that every pilgrim on planet earth must make. Moving to Disney World is not an option. There will be tribulation; Jesus said so. But be of good cheer. He's still in the business of guiding and strengthening and healing and overcoming."
~ When the Glass Slipper Doesn't Fit by Claire Cloninger and Karla Worley~
"Disney World" was always my residence of choice when I was a child.
When I was 4 years old, I used to embarrass my parents whenever we went to visit relatives on Sunday afternoon because the moment they announced it was time to go home, I would throw myself on the floor and have a hideous temper tantrum. I don't remember doing that, but heard my parents tell the stories many times.
Each year when Labor Day Camp came to an end, I grieved inside - wishing it could last forever. When I travelled to Tennessee at age 14 to be a junior camp counselor for a week, I phoned home and begged to stay another week, even though I had no idea how I'd get home.
Homesickness just wasn't in my vocabulary. In the real world, I did anything I could to minimize time spent at home. When I had to be at home, I remember spending hours sitting in a swivel rocker next to our dining room window, daydreaming about running away from home. I had it all planned out - how I'd sneak back at night to get food out of the refrigerator and hide in the nearby wooded area in the daytime.
As an adult who has worked hard through the process of healing for my damaged emotions, I understand why I felt that way now. Home wasn't a safe place. And because I couldn't cope with the things that happened there, I escaped any way I could - either by becoming active in all sorts of School and church activities or by retreating into a world of daydreams.
God knew I couldn't live in my own private "Disney World" forever so when the time was right, He began teaching me how to cope with the real world. I discovered just how tough and nitty-gritty the journey really is and how much I need to trust Him for guiding, strengthening, healing and overcoming.
Trust is the core issue behind the ability to cope with the real world. But how can trust be built or rebuilt once it is damaged?
Learning or relearning trust requires us to become spiritual infants. When a baby cries, it learns to trust its parents as its needs are consistently met. I had to journal about each need the Lord met for me in answer to my prayers. Being able to see His blessings in black and white went a long way toward fortifying my trust that He had met my needs in the past and would continue to meet them in the future.
I also had to learn to empty my heart of all the emotional turmoil inside by praying and crying out to the Lord until all the tears were spent; much like a parent quiets a weeping child. Once all the confusing and hurtful emotions were emptied out, I could hear His voice and receive the comfort He had to give. It was a process that occurred over and over again until trust began to take root.
It isn't an easy fix, but He is patient and gentle as He works to rebuild broken trust. The Disney World way of coping with life won't work for long, but a life of trust will always get you through!
If you'd like to participate today, simply blog about the quote on your site and then leave your URL in the Mr. Linky box below. Please fell free to visit the other great blogs to read their take on today's quote!