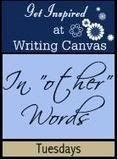 Thanks for joining us for In Other Words Tuesdays! Denise over at
Shorty Bear's Place
has chosen this quote for "In Other Words" today:
Making lifestyle changes is like taking the step of faith onto Martin Luther King Jr's stairway in the quote above. Whether it's learning to let go of control and trust the Lord more fully; to reign in excessive spending and live more frugally; or to lose weight, exercise and make healthy food choices, that first step is probably the most difficult one you'll ever take!
It is a commitment that you must make by faith because you can't see the whole stairway. And the neatest thing about it is that once you make the commitment in one area of your life, all other areas will eventually be affected.
Seventeen years ago, I took the first step of faith on my stairway to overcome the depression that plagued me most of my adult life. Though I was a Christian from the time I was 8 years old, I had grown up with damaged coping skills from childhood abuse. I tentatively reached out and took His hand to take the first step on the stairway - emotional healing.
Over the years, I have been amazed at the changes He has made in my emotional and spiritual life. Joy and confidence became part of my inner life and I began enjoying the journey with fewer dark cloudy days. But my life journey was still an upward climb.
Over the last few years, though I was coping much better, there seemed to be one life struggle after another without a break. I found myself dealing with aging parents who were also becoming incapacitated. My husband and I experienced some difficult church situations that wounded us deeply. We made a major move and became "empty nesters" for the first time. It wasn't long, however, before we found ourselves faced with the need to open our home to help our grown children and grandchildren. On top of all that I developed some back problems and severe arthritis in my knees which caused me to retire early when we really needed the income. Then we moved again, leaving behind our 5 sweet-faced grandchildren and faced more loss as my parents both died.
My journey ground to a halt as I stood there on the stairway, hanging onto the golden handrail and breathing hard. Though God allowed me to catch my breath, He wasn't going to let me stand there for long.
This time, He began working on my physical issues - namely weight. He knew I was finally ready to let go of the protective wall of excess weight I had always carried as I took His hand and took another tentative step up the staircase.
My spirit has grown lighter because with each upward step, I'm not only shedding pounds, I'm leaving behind the remnants of that stony protective wall I once built around my heart - a wall which I thought kept me safe, but really only kept me isolated from His Love.
As the staircase vanishes from sight, hidden by the stories above, I know this: Each step builds on the one before it, making it possible for me to take the next one. He is there to support me when the climb gets tough. I can let go of control and trust Him more each day because the staircase has spiralled far above the place of fear and despair where I started. Though I can't see it yet, I know I'll reach the top landing someday and step off the stairs into His home at the journey's end.
Ever wonder why God doesn't have an elevator to heaven? Because it's spiritually healthier to take His stairs - one step at a time!
If you'd like to participate today, Just blog about the quote on your site, then hop over to
Shorty Bear's Place
and leave your URL in the Mr. Linky box. Hope your day is Blessed!!!!!