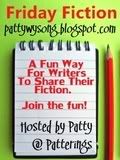 This is one I wrote for Faithwriters almost exactly one year ago today so some of you might recognize it.
The Peace of Bread
FaithWriters Challenge entry – Topic – "Angry" – for August 9, 2007
Millie sat in her power chair and glared out the window. "Hrumph! Nobody wants to bother with a grumpy old arthritic woman."
Watching the children playing kickball in the street just made her feel angrier. "Look at them run, God. I can't even walk out on my front porch. Puh!"
She fumbled with a cassette tape from her church, hoping the strains from Sunday's choir anthem could soothe her ruffled feathers.
"We are all ministers. If you are living and breathing today, God has something for you to do." Pastor Walker's voice boomed through the silent house.
"Who turned up the volume?" Millie punched the off-button, grimacing as pain shot through her gnarled thumb.
"He must be on some sort of soapbox. That's the second week in a row he preached about ministry." Her frown deepened as she muttered to herself. "He just doesn't know how it feels to be shut in. Who am I supposed to minister to? No one comes to see me."
She made a crooked fist she shook it toward heaven. "Besides, what can I do anyway? Tell me that?"
"You can hold a wooden spoon." The firm response startled her.
"What? Who said that?" Millie steered her chair through the whole downstairs, looking for the owner of the Voice. Seeing no one, she pondered the strange statement. She scooted to her utensil drawer and retrieved a wooden spoon.
Sure enough, though her fingers were twisted, the handle fit comfortably in her hand. "Okay. I can hold a wooden spoon. So what? What am I supposed to do with it?" Still frowning, she spat out the angry words.
Millie clenched her teeth, not wanting to let go of the selfish anger boiling inside. She pivoted her chair to leave the kitchen, but as she did, she glanced at her kitchen table.
"My daughter can go to the store, but she can't take time to put the groceries away." The five pound bag of flour felt like ten pounds as she tried to lift it. Setting it back down, she picked up a package of yeast. "She's always getting me things I don't need," she said, still seething.
"Since it's here, why not make bread?" This time the Voice sounded softer, suggesting rather than demanding her attention.
Her sputtering protests died on her lips as vivid memories of baking homemade bread for her children danced before her eyes. Oh, how they licked their lips at the sight of thick slices slathered with melted butter and jelly.
"I can almost smell it!" Tears glittered in the old woman's eyes as the angry storm clouds dissipated. "But I can't do that any more, can I?"
A long lost eagerness pounded in her breast as she powered her chair to the low cupboard which housed her bowls. "Let me see, I need yeast and warm water, salt, butter, a little sugar…" Her voice trailed off as she made mental notes of the necessary ingredients.
Millie struggled to cradle the bowl as she mixed the ingredients. Each time she was tempted to give up with an angry "harrumph," she found a new way to compensate for her gnarled, achy limbs.
Three hours later, a sweet smelling savor filled the kitchen and wafted out the window on the summer breeze. The loaves were a little misshapen, but golden brown with a heavenly scent. The old woman was jolted out of her reverie by a sudden knock at the kitchen door.
"Who could that be? No one comes to see me." She opened it with a frown on her face.
Her neighbor, Elizabeth, stood there wringing her hands. "Oh Millie, I'm supposed to take a meal to Mrs. Duffy from church – you know, the woman with all the children? She's just had a chemo treatment and, well, the children need a good meal. I smelled the aroma of fresh bread coming from your kitchen and, well, I thought to myself, 'That's just the ticket to get those kids to eat.' They're awfully worried about their mama and all. Do you think you can spare a loaf?"
Millie's eyes widened in wonder as she handed a loaf to Elizabeth. After her neighbor left, she sliced the remaining loaf and raised her eyes toward heaven. "Thank you Lord, for bringing peace to an angry old arthritic woman."
***
To read more great Christian short stories, visit our hostess
LauraLee
over at her site
LauraLee's Lifesong
and click on any of the links in the Mr. Linky box. Be sure to leave comments for the authors you visit. We all need encouragement now and then!
If you have a story to share - post it on your blog, then visit
LauraLee
and leave your link in the Mr. Linky box. Come on and join the fun!