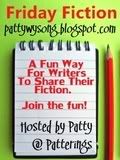 None of My Business
The upstairs room in the house across the street from my bread shop often has its blinds drawn. It's the room above the one with the geraniums that belongs to Hans and Erma. Even this morning when I went out to sweep off my walk and put out my "daily special" signs, the blinds were closed up tight. From my place behind my cash box, I can see the stairs that lead up to that room. Every so often, someone goes up there, but no one seems to come down.
Mrs. Schwartz used to live in that upstairs room, God rest her soul. She's fortunate that she doesn't see the goings on nowadays. I didn't think anyone had rented her place until I saw these men going up there carrying carpet bags and dressed in black suits.
Not that it's any of my business, you know, but these are strange days. After the raid last week, people even suspect their neighbors. Why, two men were arrested as spies in the blue house just two blocks over, next to where my sister Ava lives.
She saw the whole thing—the soldiers in their drab uniforms and their big machine guns. They marched right up on that porch and busted in the door. Ava was out hanging up laundry. She pretended she wasn't paying attention, but she saw it all. She nearly fainted when one of the soldiers looked straight at her and shifted his gun in his hands.
The soldiers were really rough on the prisoners, kicking and shoving them into the covered truck. What a scare for poor Ava! It's best if you don't know too much. She said the soldiers questioned her, but she's just a poor woman who takes in laundry, and doesn't know anything, so they let her alone.
Helga came in for her two loaves of round, rye bread yesterday. She said a watchmaker and his family were arrested in the town where her uncle lives for helping two Jewish families escape. The watchmaker had built a secret room in his house to hide the Jews until they could escape late at night. Helga heard the watchmaker would be taken to the gas chamber for helping those families. Now she's afraid to sell eggs to the Goldsteins who live four houses down.
When I was busy making my bread this morning, I saw a man through my shop window. He had a long untrimmed beard and climbed the stairs to that apartment across the street. He didn't see me, though he looked around first to see if anyone was following him. I've been watching and he hasn't come back down yet.
Rumors say there is a tunnel in the basement of Hans and Erma's house. I heard strange noises a few nights back, like tapping on my water pipes and muffled voices. Maybe there's a secret room there where people can hide. Hans doesn't laugh anymore and Erma only hurries in to buy her brown bread. She bought three loaves yesterday, not two like she used to.
These are strange days, but then, it's really none of my business….
© 1995 Bonnie Winters
***
Fiction Friday is hosted by Patty over at her site
Patterings
. To read more great short stories, hop on over and click on any of the authors' links.
If you'd like to play along, post your story on your blog, then leave your URL in the Mr. Linky box.
Happy reading and writing!